A few summers ago, my family spent a wonderful week on Sunset Key.  Sunset Key lies just offshore of Key West's Mallory Square. If you visit Mallory Square for its famous sunset celebration you will be watching the sun set just behind Sunset Key!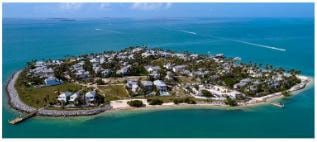 It's a quick five-minute boat ride from the mainland and is home to 48 private residences and a luxury resort owned by the Walsh family who also owns Opal Key Resort & Marina, where you catch the ferry to the island. Sunset Key is a tropical oasis of palm trees, bougainvillea, orchids, clear blue waters and warm sea breezes. There is only the one resort and no cars on the island. It makes for a peaceful respite from the sometimes loud, crazy, quirky, and raucous Key West! Sunset Key was originally called Tank Island. The United States Navy constructed Tank Island to serve as a fuel tank depot during the Cold War. Dredging began in 1965 to form the island as well as to build passageways for submarines and other large vessels. The Navy's plans changed and the island saw little military action. Only two of the twelve planned fuel tanks were constructed, and although the fuel lines were run, the tanks were never filled. In 1986, the Government Services Administration sold Tank Island and other harbor front acreage. The fuel tanks were dismantled two years later, cut into strips, cleaned and made into an artificial reef south of Key West. The remaining fuel lines served as conduits for water, sewage, and utilitities.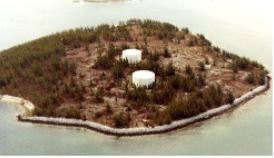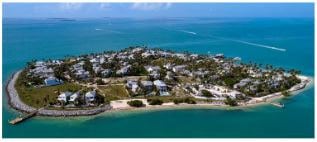 Power cables were later laid alongside the existing fuel pipes. In 1994, the island was re-purchased by the Walsh family and renamed to Sunset Key. You don't need to stay on the island to enjoy its ambience. Reservations can be made at Latitudes Restaurant for lunch or dinner. Dine inside or out on the patio with a gorgeous view of the water.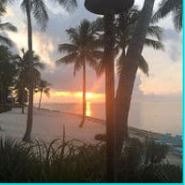 Be sure and have their key lime pina colada. It's delish!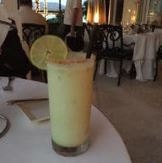 For more information on Sunset Key Cottages and all the ammenities of the island, check out their website at www.sunsetkeycottages.com